Lonnie Liggitt, founded Greenwood Studios in Tulsa, Oklahoma, and was the president of Horace Hopper's Musical Adventures, Inc. until retirement last fall. For the past 10 years he has been involved in research in early education funded through private foundations, state grants and with venture capital. His work involved the causal relationship between his computer music applications and communication skills of higher functioning autistic and Asperger's Syndrome diagnosed children. His company has won 5 national awards in education and Mr. Liggitt is a member of Who's Who Among American Teachers and Who's Who in America.

For the previous10 years Mr. Liggitt worked as a regional vice president for Dean Witter (now Morgan Stanley). He specialized in private placements and other capital formation offerings. Mr. Liggitt worked on placements for Motorola, Hybritec (monoclonal antibodies), Chrysler, Ares Sorono, Nova Pharmaceuticals, and many other high tech ventures.

All his life, Mr. Liggitt has immersed himself in composing and musical performance as a pianist and organist. His contemporary works are published through DSM (Warner Brothers) in New York. He has managed and toured around the world with Ernestine Dillard, one of the most talented Gospel singers of our time.

Mr. Liggitt conducted the world premier of Antol Dorati's Missas Brevis and was associate conductor of the New York City premier of Dominique Argento's Masque of Angels. As a composer in London, he was commissioned to write the film score for the BBC II production of "The Three Princes" and the BBC Radio's production of "Aubrey Beardsley".

As the associate conductor of the Pittsburgh Civic Light Opera for two seasons, Mr. Liggitt conducted 12 Broadway musicals and coached the principles brought in for the leads, including Shirley Jones, Patrice Munsel, Gretchen Wyler, Gene Fenn, Georgio Tozzi, and Richard Metcalf. In London, he coached all the major roles in the West End opening of "Mame". He composed and orchestrated the music for Sue Nichols in her debut tour of England and Wales.

His organ concerts include St. Thomas Episcopal on 5th avenue (NYC), the American Cathedral in Paris and Syracuse University. He completed a Masters of Music degree as a Graduate Fellow with the famous organist Dr. Arthur Poister. He remained on the faculty at Syracuse University with Dr. Earl George and Dean Howard Boatwright as a conductor, teacher and recitalist and musical theorist. He wrote the realizations of several early Frescobaldi concerti discovered by Dr. Don Smithers who recorded them in London with Oxford Press. He wrote and produced the first quartertone ballet, A Season in Hell, based on the writings of Arthur Rimbault. It was a big fat flop.

Mr. Liggitt and his associate, Mr. Jung Song, are now writing the music for 2 films. Mr. Liggitt's music has been performed by the Jackson Symphony, the Memphis Symphony, and the Oklahoma City Philharmonic. He recently joined the Board of the Tulsa Symphony Orchestra as vice president of education.
Mr. Liggitt just performed the World Premier as organist for "Heaven and Earth, a Celtic Journey". He was also organist for the premiers in Ireland and Wales.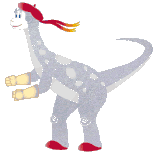 Herb Robb is a nationally recognized artist and graphics designer. He was a student of Michael Aviano in New York and is currently president of the Oklahoma Society of Impressionists. His paintings, murals, and sculptures are in corporate, public, and private collections across the United States. He has ten years experience in teaching art to people of all ages. Robb provided the illustrations and is the Art Director for the "Horace Hopper Musical Adventures.